Mineral Insulated Cable is unmatched working in a fire survival electrical cable system.
With a basic inorganic construction of a copper sheath and copper conductors, together with a mineral insulant, the cable provides a unique combination of dependability, versatility, and permanence. This construction, with the melting points of 1981°F and 5072°F for copper and the insulant respectively, provides the unsurpassed Fire Survival properties which enable the cable to continue to carry current at temperatures up to 1850°C (3362°F).  
We can also serve the outer of the MI cable with an LSF sheath to your color requirements as needed.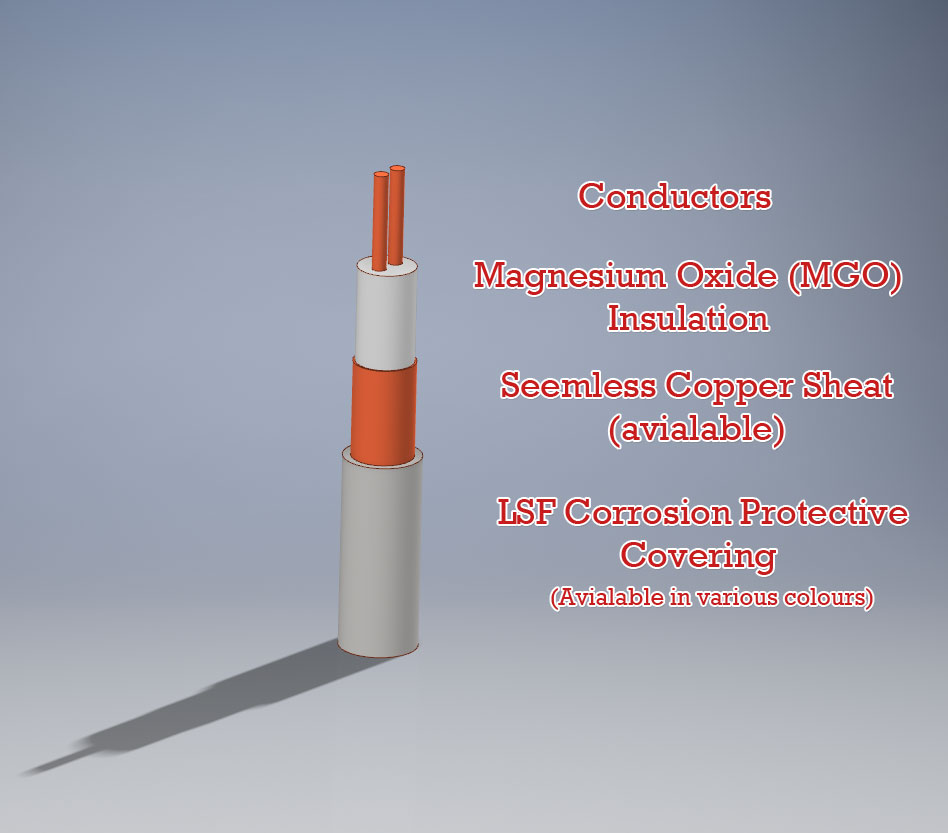 MI Cable Advantages
MICC wiring cables are used in a multitude of applications and environments. A truly range taking product unsurpassed by any other product and requires no conduit or concrete protection to enhance its use.
 Real fire circuit integrity performance by furnace testing
Real fire circuit integrity performance by furnace testing (Furnace testing 2 hours or more 1,010°C (1850°F) + water jet)
Zero toxic emissions (not: just low halogen & high CO)
Zero flame propagation (not: limited flame propagation for external fire only)
Zero smoke (not: just 'claimed' low smoke)
Zero heat of combustion (not: high fuel element & high heat of combustion, & high oxygen consumption & high CO emissions)
Zero environmental impact in installation, service life & disposal (100% recyclable)
Zero impact from rodents, termites, and insects (not just no damage under the outer steel armor)
High Short Circuit Ratings (high safety – no self-ignition)
High Overload resistance (high safety – no self-ignition)

Characteristic Impedance

(no significant change during fire or water jet)

Mechanical integrity across normal and abnormal operating temperature range

(Cable does not soften at operating or overload temperatures)

Non-aging

(not reduction in elongation at break to 50% absolute in 2.3 years at rated temp.)

Small Size (diameter)

(less installation space needed)

Fewer fixings required

(longer fixing distances due to less sag)

Waterproof

(Solid copper outer jacket)

Radiation proof

(use permitted in reactor chamber of Nuclear Power Station)

Bio/Chemical Hazard safe

(fully sealed cable at each end and through full length)

Sharps & Crush resistant

(not just unidirectional cut resistant)

No OHS issues

(Occupational Health & Safety for installation and handling)

Proven fire protection performance

(in service over 80 years)
 The standard range of the cable provides the ideal solution for almost all electrical circuits. One voltage grade is available – 600 volts with conductors from 4AWG to 500MCM giving current ratings up to 700 amps.
 MICC offers a full range of complementary termination and installation accessories and tools that provide for a complete wiring system.
Reliability
 Specifying the right cable for a particular application is the first step of course. The key to reliability, however, is in the manufacturing process. The cable must be free from material and manufacturing defects that will be revealed in service. MICC constantly monitors all manufacturing processes and operates the most stringent Quality Assurance procedures to give you that kind of reliability. It is a factor that assumes vital significance where cables are to be installed in locations where future access will be difficult.
At the same time, we recognize that modern commercial and industrial activities create even greater demands on performance and reliability. Consequently, our manufacturing techniques are under constant review to ensure that the control and monitoring of materials and processes become even more stringent, fully automatic, and precisely documented.
26695 Eckel Road, Suite B, Perrysburg,
Ohio 43551
USA
[email protected]
Phone: 567-331-0101
Cell:  (419) 575-7220